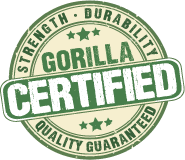 The Gorilla Sun Palace II is the monument to outdoor fun that might just get your house listed on the National Register of Awesome Places. Corrosion-resistant hardware, factory-sealed cedar timbers and the most popular playground elements are combined to make the kind of environment that makes it hard to not smile for years to come. The tip of this fun iceberg is the central platform, elevated 5 feet up, and measuring 24-square-feet. The roof is made of heavy-duty, rot-resistant cedar, featuring dormers, a chimney, sunbursts, and custom scrollwork. Integrated features include a flag kit, tic-tac-toe board, telescope and steering wheel.
Kids can get in or out on the rock wall with climbing rope, or the deluxe rope ladder. An extreme wave slide or metal rung step ladder give access from the other directions. Monkey bars with heavy-duty metal rungs round out design. Gorilla Playsets has made a big contribution to the home playground with their patented, heavy-duty A-frame bracket for swing sets. Your swing set comes with three swing beam positions so you can find the perfect home for two belt swings and a trapeze. To finish it off, you have a swiveling turbo tire swing hung from the bottom of the central platform.
This playset will require approximately 8 - 9 hours of setup, and some moderate use of hand tools. All wooden components are pre-sanded and pre-drilled for safe and easy assembly.
Features
Free-standing design requires no stakes or footings 3-position swing set beam on patented A-frame bracket

Turbo tire swing with swivel

Monkey bars with heavy-duty metal rungs

Step ladder and metal rung ladder combo

Sunburst wood roof with dormers, chimney, and custom scroll work

Steering wheel, tic-tac-toe board, flag kit and telescope

Timber shield poly-coating on all wooden components

Includes owner's manual, 3-D assembly instructions and hardware 

Dimensions: 21L x 12W x 11 feet